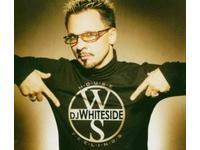 is the new star on German label Milk and Sugar. He is an established producer and remixer, whose work has already been published by infamous labels like Subliminal Records NY and Clubstar Germany. In addition to this, he has also remixed tracks by Armand van Helden and Junior Jack. 2006 will be another successful year for him.
Whiteside has set a new milestone in his DJ career. One of Germany's most representative house labels has signed him exclusively. Milk and Sugar is responsible for infamous hits like "Love is in the air" or "Let the sunshine in," which have caused a stir on dance floor all over the globe. Thank to Whiteside they are about to enter new production territory.
After the inclusion of Whiteside's "Crazy" in Essential Tunes by house legend Pete Tong, his latest production Candy Williams "got the music in me" has already made into the playlists of infamous DJ's like Axwell, Steve Lawler, Robbie rivera, ATFC, Jerry Ropero & Denise the Menace, Paul Stevens, Davidson Ospina, DJ Disciple, Victor Simonelli, Disco Boys and Joey Musaphia. He 's project name Candy Williams – I got the music in me – was one of the best selling records for Milk and Sugar Germany in 2006. This year Whiteside hits the floor again with 2 top releases for the same worldwide known label.
"Candy Williams vs Whiteside – have it all" is already in the playlist of Disco Boys, Syke and Sugarstar, DJ Antoine, Eddie Thoneick, Axwell and even the more hardstyle DJ Steve Lawler included him.
Whiteside is definitely one of Switzerland's top 5 DJ's. He represents something between the underground and TOP 40 scenes. His motto is: "I adapt to the vibes of a given club. Not the other way round!" As a result, you might always experience exciting surprises during his DJ sets. Moskow, Kiev, Odessa, Munich, Vienna, Stockholm, Los Angeles, Mykonos (SPACE "Fuck me I'm famous!) are just some of the places where he has recently played.
Success has proven that Whiteside is right! His "Ugly House" CD's are the best selling house compilation series in Switzerland. All of them have reached the top 5 positions of the charts. Quite an achievement if you think that house is still a niche: this cannot be a mere coincidence.
The following CD's and 12" are still available:
Whiteside – move on up (Milk and Sugar Rec. Summer Release 2007
Candy Williams vs Whiteside – have it all (Milk and Sugar Records 2007)
Whiteside&Palmer and Brown-cant get enough (Airplane-Italy) Luca Casani 2006
Whiteside - round and round (Disco Galaxy Germany 2006 Remixes)
Whiteside feat Candy Williams – I got the music (Milk and Sugar Germany)
Whiteside – Crazy (Milk and Sugar Germany)
Whiteside feat Soulvibes-heaven (Clubstar Germany) 2004
Whiteside feat Soulvibes – 2 make the things alright (Clubstar Germany) 2004
Whiteside feat Tiza B - rescue me (Subliminal Records, NY), 2003
Whiteside Feat. Soulbvibes - keep on lovin ((Clubstar), 2003
Dawn Madison - time is right (real groove) 2003
Barcelona House Tribe - move on up 2002
Whiteside presents: Matthew Tremain - house music is where you 2002
Whiteside - Nation to Nation. 2001

REMIXES:
Armand van Helden – Egyptian Magician (Remixed by Whiteside) UCMG Junjor Jack vs Richard Grey – you are so fantastic (DAWN Madison Remix) (Real Groove Records)