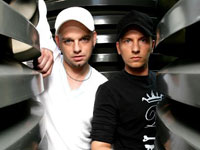 PLAYER&REMADY started their success story as solo artists in 1995. They progressed to house music via drum&bass and UK-garage and are now known for their innovative and high-quality sets.
Since 1998, the 2 DJs operate as a team and play each weekend throughout Switzerland and abroad (among others, at Ministry of Sound, London; Euphoria Festival, Poland; Arena Club, Kiev; Club Fabrique Moscow; Metropol, Odessa; and many more).
Thanks to agreements with the agencies "United Tribes Bern" (drum& bass) and "Sweet & Sexy" (UK-garage) they now feature as an integral part of Switzerland's music scene. Having issued 7 compilations (each within the national top 5 list),1 solo album, 3 singles with 3 music videos (all on high rotation on Viva CH), PLAYER&REMADY are among the most renowned Swiss music producers.
In 2003, they founded their own label, P&R. This brand represents the same name cult party series (Supermarket, BBQ, Labor-Bar) and also deals with the publishing and licensing of music. The name PLAYER&REMADY is an integral part of the club scene and the own productions of the two artists are increasingly discussed in the industry.
In 2005, one of the most important steps in their carreer was signing the artist under the label "HOUSEWORKS". The name stands for one of the biggest and highest qualitiy house labels in the world.
With several releases like "electrical orgasm", "if you believe in love", "this motherfucker", "this pictures" and remixes for Phunk Electric "video game crash", spit "falling", doc phatt "hey dj" and many more. PLAYER&REMADY are rocking the sets of many DJs around the planet.
Not to forget the tracks they could place on DJ Antoine's Mix CD's (Black Album, Mainstation, Live in Dubai, Live in Moscow and others), which all reached gold in Switzerland!!! In the near future P&R will continue their collaboration with HOUSEWORKS and are very proud to be a part of it.
In February 2008 – Proudly presenting a world premiere: HOUSEWORKS Mega Mix 2 CDs – totally 70 tracks - 35 HOUSEWORKS Mega Hits and 35 own productions by PLAYER&REMADY!!!