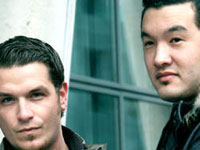 Rafael Ximenez born in Madrid and Mikio from Tokyo are the DJ Team PLASTIK FUNK. Together the two DJs, who are now living in Duesseldorf, form an important part of worldwide nightlife. Gigs in San Francisco, Los Angeles, Miami, Hawaii, Zurich, Ibiza, Mallorca, Barcelona, Prague, Vienna, Tokyo that are some of the places which they have already enchanted with their sound.
At the beginning of 2005 they had been travelling with the "Privilege World Tour" thru France, Czech Rep., Spain, Germany, USA, Russia, Ukraine and the UK spreading the spirit of the magic island of Ibiza throughout the world and also played the first german "Sensation White" in the Gelsenkirchen Arena auf Schalke (with more than 15.000 visitors) as well as many european openair-festivals.
In may 2006 the two played at the biggest indoor dancefestival in Portugal called "Love2Dance" in Lisbon and had several appearances at the reborn Loveparade in Berlin and the Streetparade in Zurich.
The Summer of 2007 sees the guys playing several gigs for the legendary wednesdays dayparty "In Bed With Space" at Space Ibiza as well as their appearances at the Bacardi B-Live event on the lovely island of Sylt.
After mixin last year's official Bacardi Compilaten, in March 2007, they realeased a mix cd for the Planet Radio show"nightwax" going straight into the german sales-charts.
Since April ..07, Plastik Funk are artists on Germany's top imprint Ministry of Sound, releasing their latest single "Let Me See Your Hands" with the mindscrewing vocals of the incredible Dollarman (who did the raps on Bob Sinclar's "Rock This Party"). ?Be prepared for more to come!?
For the summer 2006 Plastik Funk released a coverversion of C&C Musicfactory's "Gonna make you sweat" which entered many important dance charts (Germany Top10) and recieved massive support from the biggest names in DJ business. The track has now been licensed to several countries, such as U.K., Poland, Japan or Canada, too.
The typical Plastik Funk sound (a mixture between classic house and electro) has found many admirers and as a result, many artists wanted the duo to remix their tracks. Here are some of the latest records reedited by Plastik Funk:
Jean Claude Ades - I Begin To Wonder (Swings, GER)
Sandy Vee - Dirty Beats (Pacha Rec., ESP)
Voodoo & Serano - Kylar's Guitar (Ministry of Sound, GER)
Shaggy - Feel The Rush (M>1 Rec., GER)
Phunk Investigation - Crazy Diamonds (Absolutely Rec., ITA)
Robyn - Be Mine (Ministry of Sound, GER/UK)
Westbam & the Lovecommitee - Highway To Love (Ministry of Sound, GER)
Sugiurumn - Travelling (Pacha Records, ESP / Avex, JAP)
David Guetta - Delirious (Virgin, FRA)
ReFuge - So Real (Ministry of Sound, GER)
Big Bass feat. Michelle Narine - Do What You Do (Ministry of Sound, GER)
Westbam & the Lovecommittee - Love Is Everywhere (Ministry of Sound, GER)
Spektrum - Kinda New (Ministry of Sound, GER)
Dada ft. Sandy Rivera - Lollipop (Ministry of Sound, GER)
Mousse T. – Bounce (Peppermint Jam, GER)
Sunfreakz – Riding the waves (Alphabet City, GER)
Tom Novy – It's my house (Kosmo, GER)
Milk & Sugar – Stay around (Milk&Sugar Rec, GER / AATW, UK / Subliminal, USA)
Paul Johnson – Just dance (Casa Rosso, GER)
Mochico aka Eddie Amador – Analog is dead (Mochico Primo, USA)

+++ IBIZA +++
During the summer 2006, they hosted their very own night at Privilige Ibiza called "PlastikFunkTastik" for three months with mainfloor host John Acquaviva and his guests. Apart of being residents at the world's biggest club Privilege, Rafael and Mikio have been asked to be part of the Privilege World Tour again and so they once again started touring around the globe in the name of PRIVILEGE. As a big finale Rafael and Mikio were asked to play on the mainstage at the legendary SPACE Closing! The night before the closing, Bacardi invited the guys to play along with Pete Tong, Groove Armada and Moloko's Roisin Murphy for their secret VIP party at a finca in Ibiza.
In 2007, plans have been made again. New singles, remixes and compilations have been released and the summer saw a cooperation of PlastikFunkTastik with the one and only wednesday mornings afterhour at SPACE, "In Bed With Space". An unforgettable summer passed and it's alread about time to set everything for summerseason 2008.
Apart of playing their residency at In Bed With Space, Plastik Funk will be regularly performing at the No.1 beach bar "Bora Bora" as well as some openair gigs at "Blue Marlin". ?The summer may come!

+++ RELEASES +++
• Plastik Funk Right for me E.P. (SurePlayer Blacklabel) Aug.03
• Plastik Funk San Francisco (SurePlayer Blacklabel) Jul.04
• Plastik Funk feat. Irma Derby All thru the night / w. DJ Prom Rmx (Effet Parallel) Apr.05
• Plastik Funk feat. Irma Derby Round and Round / w. Ian Carey Rmx (SurePlayer Rec.) Sep.05
• Plastik Funk presents DaBear Pump it up (Houseworks (Switzerland)/ Excess (France) / Concept (UK) / DKD Noy Rec. (Canada))
• Plastik Funk - No never (Casa Rosso)
• Plastik Funk presents MiRael - I feel it (Nine Records/USA)
• Plastik Funk - Everybody Dance Now (Tipsy Tunes/Germany)
• Plastik Funk pres. Whiteboy - Rock Bitch (Pacha Records/Spain)
• Plastik Funk presents MiRael Tell Me Why (Nine Records/USA)
• Plastik Funk feat. Dollarman - Let Me See Your Hands (Ministry of Sound)
• Plastik Funk - Irresistible (Ministry of Sound)
• Plastik Funk - Show Me What You Got (Ministry of Sound)...COMING SOON!!!

+++ CDs +++
Snowzone Compilation (mixed by Plastik Funk)
2004
PlastikFunkTastik Edition Ibiza 2005 (mixed & compiled by Plastik Funk)
04th Nov.05
Bacardi B-Live (formerly Ritmo de Bacardi) 2006 (mixed & compiled by Plastik Funk & Michael Gray)
Sep. 06
nightwax 02 (mixed by Plastik Funk)
23.03.07
In Bed With Space Wintersession 2007 (CD1 mixed by Jonatha Ulysses, CD2 Plastik Funk in the mix)
23.11.07
Clubbersguide Ibiza 2008 (CD1 mixed by Plastik Funk, CD2 mixed by Knee Deep)
30.05.08