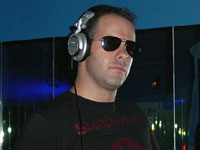 Born on the 16th of May, 1975, the half Italian half Swiss, Fabio Antoniali, discovered at an early age, his affection for music. When he was 12 years old, musical groups, such as Depeche Mode and Jean-Michel Jarre totally fascinated him. Fabio's parents accordingly presented him with his first keyboard, thus the first step was made in his musical career.
As time past, he cumulated more equipment, and the first 'demo-tracks' were made. These tracks were tried-and-tested at local school disco's and parties, and this resulted in the first contact with the popular Fresh Music Label, who were interested in releasing some of these tracks. At that time, due to the lack of professional mix-down equipment in his studio, these tracks were never published.
After he had finished his electronics education, Fabio, alias Mad Mark, decided to accept the invitation of DJ Bobo Producer, Gutze Gautschi, to build-up and strengthen the Fresh Music recording studio. At the same time, Mad Mark completed the AES Studio Technician Course, and concluded by passing the final examinations to become a Studio Technician, which helped him with his daily work in the studio. Together with his friend, Sven Luv, Mad Mark also began his DJ Career, by spinning at the local Terminus venue and other organized Parties in the region. Later, the demands for his DJ skills expanded outside the region of Olten, at such clubs as, House Café, Jail, Heaven etc. 
In 1996, Mad Mark made the acquaintence of DJ Antoine from Basel, who had just finished producing a track called "Sound of my Life". Antoine needed Remixes of this track, and Mad Mark obliged in the shortest space of time. The track was released on the Dutch label "Anvers Records", and also appeared on numerous well known compilations at the time. Further successful tracks were released, in particular on the "Groove Inc." label.  This brought the awareness of more Party Organizers and Clubs. Subsequently, in 1997, followed the first Bookings in Sensor Club, Paradise, Private House, etc.
Through his successful productions, more DJ's wanted to work together with this talented, perfectionist who didn't let the fame go to his head. DJ's Dream, Energy, Max B.Grant in the Techno/Trance field, and DJ's Antoine, Leon Klein and EDX in the House scene, called upon his expertness.
In 1999, Mad Mark and DJ Antoine established their own Production Company "Global Productions GmbH", the Label "Session Recordings" and Publishing Company "100% Hype". By then, Mad Mark was spinning regularly at the Tarot-Friday-Parties", the legendary "Afterhours" and "Late Nite" at Zurich's best-known Club OXA' House Café, Terminus, Prince in Lugano, Kaufleuten Zürich (at the Houseworks nights), and large Party Organizations like Houseplosion, Albisriederhaus, HOUSEW@RP, Groove Lift etc.. This proved to be an ideal combination, enabling new tracks and productions to be tested on the audiences and party-goers.
In 2001 the duo Antoine/Mad Mark release the single "DJ Antoine vs Mad Mark – (You're my) Disco Sensation" (on various Labels, such as Oxyd, Polydor/Zeitgeist, NoiseTraxx, Spinnin, etc), and the numerous Remixes, among them "Spike – Never gonna give you up" (for German Universal label Polydor/Zeitgeist) and "Mr. Mike – Let's do it again" (for Peppermint Jam).
In Summer 2001 a must for every DJ was put out: "Robin S. - Show me love - 2001 Remixes", which are released in cooperation with BMG Ariola Munich on his recently founded label "Egoiste". The first official Egoiste release dropped in like a massive bomb, while the originally planned first release, the french production "Orange - Can you feel it", has been licensed to EastWest/Warner within a short time and so the record was never released on Egoiste.
As DJ this successes opened other doors. He played gigs at the Phonodrome Hamburg or at the Dragon Club Cologne and the guy has been booked more also in Switzerland. Motion Dance Festival, Energy Rave, Mainstation Party and also Houseworks all around the country (Terminus, H2O, Kaufleuten, Level Club) were the highlights of 2001.
In 2002 and 2003 Mad Mark as DJ was very busy playing at almost every club over Switzerlad and even abroad (Italy, Germany, Spain, etc.) and of course as producer/label owner he was working on various projects. The many wellknown tracks, such as Lee-Cabrera's summer smash "Shake It (Move A Little Closer)", Axwell's "So Right" (under the moniker Jetlag) or the world-hit "Shined On Me" by Praise Cats feat. Andrea Love (with the smashing DJ Antoine vs Mad Mark Remix) which have been released on the labels Egoiste and Houseworks, strenghtened the labels position in the international market and also increased their credibility.
Also Mad Mark has been asked to produce one track for the longplayer of Swiss-Popstar "Nubya". The track called "Happiness" is a very catchy pop-tune with influences of House and Funk. The album "My Wish" hit the charts and his track has been played on the most important Swiss RadioStations.
And finally, after many releases as DJ Antoine vs Mad Mark, Global Brothers, The House Rockers and releases produced for other DJ's, Mad Mark's debut single "Ain't No Big Thing" has hit the market and caused dancefloor damage all over the world. Originally released on Session Recordings, the track has been licensed exclusively to Musique De Salon in Belgium and it appears on many wellknown compilations all over the world.
As result of this, 2004 sees Mad Mark playing the first time in Kiew (Ukraine) and in Warzaw (Poland) alongside Defected/Fluential producers Wawa. Another DJ Antoine vs Mad Mark bomb "Disco Inferno" (with Cyndi Lauper) has been dropped out at WMC. Feedbacks of many DJs confirm this as one of the best records of WMC 2004.
In early 2005 Mad Mark & Aston Martinez' Remix of "Aurora" by Planet Funk Mastermind Alex Neri hits the stores and does serious dancefloor damage. Mad Mark is enjoying his first gig in Moscow (Club Skazka) and in the beginning of June it's time for a return to Germany's House-Metropole Hamburg joining Syke'N'Sugarstarr and their monthly "Do The Hip!" serie at the lovely China Lounge. In September 2005 the international event-series "Houseworks" and "Egoiste" start with Mad Mark as special guest at Fabrique Club, Moscow. On the production side a lot of great tracks like the massive Club-Hit "I'm In Love" (Wawa & Mad Mark), the vocal stormer "Take Me Away" (DJ Antoine vs Mad Mark), the remixes of "Believe In Me" of german's DJ Mag Top 10 Jock ATB, and the storming DJ Antoine vs Mad Mark Remix of "Housemuzik" (on Subliminal Records) have completed the very successful 2005!
2006 kicks off with the release of Mad Mark's first DJ Mix-Compilation. The 8th volume of the "Double House" compilation – the compilation of the legendary house party which is taking place monthly at the famous Oxa Club in Zurich – has been compiled and mixed by Mad Mark. The CD contains mixes of Mad Mark himself as well as tracks of his labels. The CD drops in on ..4 in the Official Swiss Charts and is enjoying excellent feedbacks.
Mad Mark remixes one of 2006s summer hits in the making, Always And Forever by the dutch dreamteam Chocolate Puma. His remix will be released on Egoiste as well as on Positiva in the UK.
Currently the conclusion of many other projects is in the pipeline, including the production of the debut-longplayer of DJ Antoine, a follow up track with Wawa, a very cool vocal track with Elan Records Honcho Ian 45 Carey and of course Mad Mark's awaited follow-up to "Ain't No Big Thing". Watch out!