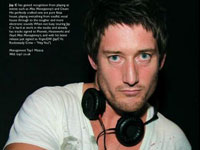 Jay C (Dj/Producer/Remixer)
Playing the finest house music, whether its the funkier, vocal balearic vibe or the tougher, dirtier and more electronic sounds - Jay C is a renowned party dj. Guaranteed to get any dancefloor moving has seen him hold down residencies for the In Bed With Space and Space World tours since the summer of 2003 after playing the world renowned Space Club Ibiza, and has seen him travelling to all corners of the globe taking in such places as South America, Asia, Dubai, Phillipines, Estonia, Scandinavia, Italy, Germany, Austria, Poland, Slovenia & Switzerland to name a few.
Jay C has also played for, and frequently guests at many top clubs and events throughout his home country of Great Britain, too many to name but include holding a 4 year residency for global brand Miss Moneypennys, playing the Radio 1 One Big Weekender and in 2006 supported FatBoy Slim on his 'Welcome To Palookaville' album tour in Manchester.
From 1999 - 2005 Jay C worked the summers out in Ibiza where he mainly ran/promoted/played the Savannah Funky lounge next to the world famous Cafe Del Mar. Booking & playing alongside some of the worlds most renowned djs, he has played at nearly all of the top clubs on the island including Space for In Bed With Space, Miss Moneypennys at El Divino, Cream at Amnesia, Pacha for Hed Kandi and at Eden for Retro, Dave Pearce and Garlands. Amongst this he played at many of the various bars such as Mambo, Bora Bora, Plastik, Hush, Mezzanine, Coastline, Kanya, as well as many of the boat parties & a couple of festivals held in Benimussa Hills...
Regularly featuring on many radio stations around the world you can often hear guest mixes and interviews from Jay C on Galaxy FM, Key 103, Fire FM and Ministry of Sound Radio here in the UK, Global and Sonica radio in Ibiza as well as on the HouseSessions Show which goes out throughout the whole of Europe.
Alongside his djing Jay C is forever busy producing/remixing in the studio and has many tracks licensed to compilations and signed to major house music labels such as Virgin/EMI, Hed Kandi, Phonetic Recordings, Oxyd, Houseworks & Miss Moneypennys. And with many more tracks in the pipeline over the coming months.......