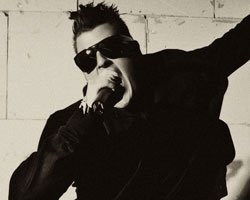 ALEXANDER KONSTANTOULAS
......is a singer / vocalist who works a lot in Sweden, but also a lot in Europe with housemusic, He works with some of the biggest names in the business , and he is quickly making a name in his work .
Alexander has released a series of house music with various deejays and his Music has played from many big names as DJ Chuckie, Micha Moor, Mark Simmons etc.
2010, he and Dj nico played on one of the biggest house festival in Europe "Zurich Street Parade "including Eric Prydz, Fedde la Grand, Tiesto, David Guetta and others who played during the festival.
Merit list for Alexander goes on in such a short time and he has been and singing for Hed Kandi in Sweden and been warm-up vockalist / mc for AfroJack, Eddie thorneik, Milk and Sugar, Dj antoine, Sir colin, Tara McDonald etc.
He have also been in a number of big clubs in Sweden and around europe as Stadshuset Sundsvall, Sliver / Harrys Karlskrona, Nöjesfabriken Karlstad, Blue Moon Bar Stockholm, Ambassadure Stockholm, Nivå Gothenburg, TC Umeå , Emilogsamuel Oslo, 360club Istanbul, Club titanic Germany etc.
What makes Alexander unique when it comes to house music in addition to his songwriting and lyrics is that he knows how to use his voice and have the right feeling for the international housemusic, this he has gained by playing around Europe with different deejays and audience, And his energy on stage that strikes most people and he always invites the audience into the show and are not afraid to take a dance with the audience and let them become a part of the evening to make it memorable
Alexander broke through the first time on TV on the Swedish idol in 2007 but fell at the finish line, in 2008 he was back and went out of the contest with a record deal and an incredible support from the Swedish people,
Since then Alexander has worked very hard with the music to keep the flame a lifeFocus this year is to continue his partnership with the duo Houseshaker from Germany and go hard on the project Dirty house guys with Martin hygard and the sponsor freixenet
{youtube width="500"}rKH_Gv9Y8cE{/youtube}