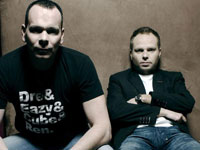 is a project of the successful Dutch producers Koen Groeneveld and Addy van der Zwan.
One of their most famous projects is Klubbheads.
In 1996 they entered the U.K. popcharts at 10 with "Klubbhopping".
The follow-up singles "Discohopping" (1997) and "Kickin' Hard (1998) became again big international club-hits and reached also the U.K. Top 40.
Due to this success they produced more than 200(!) remixes for a.o.: Reel To Real, Mory Kante, Josh Wink, Armand van Helden, and many more.
In 1999 came their biggest success so far.
They produced the worldwide hit "The Launch" for DJ Jean.
That record topped at 2 in the U.K.Top 40 and 1 in The Netherlands.
2005/2006:
The Hi_Tack debut single "Say Say Say (Waiting 4 U)" became a worldwide chart hit and peaked at 4 in de UK Top 40 early 2006 and stayed for 4 (!) weeks in this Top 10. Several Hi-Tack remixes for Filterfunk "S.O.S. (Message In A Bottle)" and Loleatta Holloway "Love Sensation" received massive response and became big (club) hits worldwide.
Their (radio) mix for Beatfreakz "Somebody's Watching Me" became an even bigger hit than their own "Say Say Say (Waiting 4 U)".
Other mixes that Hi-Tack delivered are remixes for: Roger Sanchez "Lost", Outwork "Electro", Delano & Crockett "Walking On the Moon", Johnny Crockett "E For Electro", 
2007:
More remixes: Delano & Crockett "Missing", Johnny Crockett "Electro Express", Peter Gelderblom "Waiting 4", Johnny Crockett's "Theme From Shout" and a couple of 'bootleg' mixes they did just to use exclusively in their DJ sets: Gwen Stefani "Wind It Up" and David Guetta's "Love Is Gone", received the Hi_Tack treatment to surprise and rock their crowds.
The 2nd Hi_Tack single "Let's Dance", a cover version of the David Bowie classic, was released worldwide September 2007 and became again an international (club) hit.
2008:
A mindblowing remix for Marco Demark's "Tiny Dancer" and a sought after bootleg remix of Rihanna's "Please Don't Stop The Music" rocked the house scene in the first months of the year.
April is the month of the release of their new single "Silence".
Since early 2006 Hi_Tack can be booked for a DJ set.
Hi_Tack DJ gigs are done by Koen Groeneveld.
Parties and countries they have visited so far are: France, The Netherlands, UK, Germany, Chech Republic, Latvia, Ireland, Corsica, Sweden, Belgium, Reunion Island and Russia.
A Hi_Tack DJ set can be best described as a perfect mix of uplifting (mainstream) house and electro which make the dance-floor rock for sure!
DISCOGRAPHY:
Productions:
Hi_Tack "Say Say Say (Waiting 4 u) 2005/2006
Delano & Crockett "Walking On The Moon" 2006
Untouchable 3 "Once In A Lifetime Groove" 2006
The Caramel Club "Mama Say Mama Sa" 2006
Johnny Crockett "E For Electro" 2006/2007
Delano & Crockett "Missing" 2006/2007
Johnny Crockett "Electro Express" 2007
DaJo "Waiting For The Sun" 2007
Hi_Tack "Let's Dance" 2007
Johnny Crockett "Theme From Shout" 2007
The Caramel Club "Jumbo Jumbo" 2008
Hi_Tack "Silence" 2008
Peter Gelderblom "Where The Streets Have No Name" 2008
Remixes:
Beatfreakz "Somebody's Watchin' Me" 2006
? "Can You Hear Me 2006
Loleatta Holloway "Love Sensation" 2006
Filterfunk "S.O.S. (Message In A Bottle)" 2006
Morandi "Oh La La" 2006
Leann Rimes "And It Feels Like" 2006
Fallen Angels "City Life" 2006
Hughs Corporation "What A Feeling" 2006
Roger Sanchez "Lost" 2006
Outwork "Electro" 2006
Rockefeller "Do It 2 Nite" 2006
Dutch Mafia "Break My Stride"2006
Dance Nation "Riding High" 2006
Cafe Groove "Why U Wanna Do Me Wrong" 2006
Starzoom "Bilie Jean (P.A.T.M.)" 2007
Gwen Stefani "Wind It Up" (unofficial)2007
David Guetta "Love Is Gone" (unofficial)2007
Topmodelz "Summer Of 69" 2007
Peter Gelderblom "Waiting 4" 2007
Peter Gelderblom Vs. Dan Parker "Trapped" 2007
Rihanna "Please Don't Stop The Music" (unofficial)2007
David Jordan "Sun Goes Down" 2008
Marco Demark - "Tiny Dancer" 2008
Captcha "Close 2 Me" 2008 

{youtube}CR0b6hAgUQ4{/youtube}