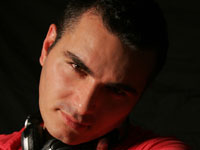 David Vendetta, DJ, producer & remixer, is appearing in Paris as a resident at " Les Bains ".
Now he has his own bi-monthly party "Cosa Nostra" at "MIX Club".
You can listen to his show "Cosa Nostra" on Radio FG Paris every Thursday from 10 to 11 P.M., and on FUN Radio each 4th Saturday of the month.
He is also performs in Los Angeles, Turkey, Morrocco, Macedonia, Portugal, Lebanon, Swiss...
David is regularly sought out by the best clubs throughout the world : Ibiza (Pacha, Amnesia), New York (Centro Fly), Moscow (Most), Miami (Opium Garden, Set), St Petersburg (Jet Set, Buddha Bar), Bogota (Tantra), Montreal (Opera), Copenhagen (Vega), Amsterdam (Panama), Barcelona (Atlantida), Monaco (Karément), Hammamet (Calypso), Johannesburg (ESP), Dubai (Peppermint), Lausanne (Mad), Bruxelles (Louise Gallery), Corse (Via Notte), Lebanon (Forum, Crystal), Turkey (Halikarnas), Sofia (Sinners), Beirut (Forum, Crystal), Hollywood (Knitting Factory)...
In 2002, David started in producing 3 maxis on Antoine Clamaran's label "Pool-e-Music": "Fiction / No sex", "She loves me / Party people", " Alicante / Cleopatra"
Then Roger Sanchez recognized his talent as a producer and took him to a higher level by  asking him for several remixes for his label "Stealth":
A Tribe Called Es (Roger Sanchez) : " Dancin " ( David Vendetta remix )
Sueno Soul : " Tempo da solo " ( David Vendetta remix)
Aston Martinez " Twisted " ( David Vendetta remix)
David first came to our attentions in 2006 when he produced the Hit " Love to love you baby " (Paradise / Dj Center), using the famous vocal of Donna Summer in the break. This track got massive support from all the biggest DJ's in the world and exploded David on to the International scene.
His next track was equally as big 'Unidos para la musica' with the fabulous voice of Akram… then  "Break 4 Love" with Keith Thomspon.
In 2007, his Album 'Rendezvous' enjoying heavy airplay and subsequent chart success all over the world...
David showed us yet another side to him in the form of remixes for :
Sander Kleinenberg's " This is not Miami "-- David Vendetta remix (Paradise / Dj Center Records), Kurd Maverick's " The Rub "-- David Vendetta remix (Paradise / Dj Center Records),
DJ Chus & David Penn's "We play house"-- David Vendetta remix (Stereo Productions),
He was the author of the compilations :
David Vendetta in Paradise  "Love to Love You Session"-- (Dj Center/V2),
and "Dancefloor FG - Winter 2007" (Barclay).
Add this together with a  nomination for best French DJ at the NRJ MUSIC AWARDS 2007 ! and you can see there is no letting up for David.
David is touring with his wicked new single "Hold That Sucker Down" featuring Fat Cat (Dj Center/Polydor), and his Album Collector "Rendez Vous" available now in stores !
{youtube}KfovDTaGReI{/youtube}
{youtube}kCeSTRgjxE{/youtube}