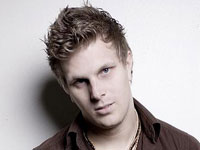 There..s no doubt that Micha Moor is one of Germanys rising shotingstarts. His final breakthrough was the consequence of living a musician life since he was a kid. Ever since Micha Moor experimented with music while learning how to play many instruments in several music groups with several music styles. Over the years he discovered producing electronic dance-music and started to gather his first experience with DJing. Quickly adapting to his audience he always finds the perfect mix of electronic sounds and house music. With miscellaneous loops and acappellas he often spontaneously creates new remixes of well-known pieces while performing live as a DJ. After various resident DJ jobs he now spins the wheels at different renowned German and international clubs mesmerizing the crowds with his mixing-skills.
His first hit »Slip & Slide« was released in February 2006 by Scream & Shout Rec. It quickly found its place on the playlists of recognized DJ.., entered the German dance charts and continued to stay on for several weeks. For some time now Micha Moor has been producing and remixing electronic house-tunes in cooperation with his studio-partner Klaas. Since their latest remix of the legendary Dr. Kucho hit »Can..t stop playing« they have undeniably become popular with the German house scene. Further remixes of Jens Lissat..s »Young and beautiful« and of Dualton »Papercut« followed…
His second single »Music is dope / Upbeat«, which reflects his motto at Scream and Shout Rec., was released April this year. It again entered the German charts to remain on for over nine weeks now.
His brand new summer-single »Space« has potential to top all of his previously released hits. The promo-track has been played as part of the Sets of many well-known DJs in Ibiza for several weeks now… Together with his partner Deniz Koyu he added a huge electro remix for his own single. Some Nr.1 chart-positions in download-stores like Beatport, Trackitdown, the well-known DJ MAG and the German Dance Charts conclude a great future...