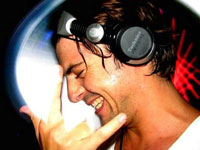 Summer 2008
It may be hard for Axwell to top the success and personal highs of 2007, but one things for sure the talented producer will certainly try.
His single, 'I Found U', not only topped every dance chart imaginable (Buzz, Coolcuts, Music Week Dance Chart etc), before crossing into the mainstream eventually peaking at a highly respectable number six in the UK (it also hit the Top 10 in Holland). "Universally the biggest record across the board – played everywhere in one mix or another. It doesn't seem to offend anyone," exclaimed Pete Tong who first set the ball rolling by crowning it an Essential New Tune. Radio 1 support was universal with Vernon Kay awarding it his Weekend Anthem, and Zane Lowe the Hottest Record in the World Right Now accolade.
"Not only does Axwell's music have an innate feel for the dancefloor that betters most others, his versatility is even more impressive. Too many producers get caught in a trademark groove, becoming a prisoner of their own perceived style. Axwell's material is so varied, yet never fails to rock big time." - Judge Jules
Record buyers, label executives, DJs and his production peers equally hail Axwell in high regard. "I think Axwell is a brilliant producer," says Miami's Robbie Rivera. "His music has so much energy, soul and depth. He makes music for DJs which is what I love." Roger Sanchez is another admirer and champion of his current placing at the apex of dance music's elite. "He's on fire right now. His productions go from strength-to-strength and always rock my dancefloor!"
The across-the-board success of 'I Found U' also saw the Positiva release crowned DJ mags' Record of the Year, while the public similarly voted it their favourite of 2007 on Steve Smart's Kiss FM show in London and Anton Power's Juice FM show in Liverpool; it also picked up the prestigious Track of the Season at the DJ awards held at Pacha, Ibiza.
And while it was always going to be hard to top his acclaimed remix of Hard-Fi's 'Hard To Beat', his mix of their latest single, 'I Shall Overcome', topped the Coolcuts Chart. Meanwhile his mix of 'Let It Go' by Dirty South featuring Rudy, which first surfaced toward the end of last summer on his Axtone label, has been licensed for a domestic release by Defected.
Indeed Axtone is one of the most in demand independent labels with 'Submariner' showcasing the underground sound of Axwell's arsenal winning support from the likes of Eddie Halliwell, Paul Van Dyk and Sander Kleinenberg; it looks set to rival the cult status that 'Get Dumb' - Axwell's all-star pairing with Angello, Ingrosso and Laidback Luke – generated last summer.

Currently in the midst of a DJ world tour that has already seen him enjoy sell-out nights in Australia, New Zealand, Asia, North America, Canada. And this forthcoming summer will see Axwell return to the white island as resident at Pure Pacha and see him headline at all of this season's festivals including two Global Gathering shows,EXIT festival, Glastonbury and Creamfields. .
{youtube}VgdDySHsuLc{/youtube}

{youtube}QroiXpj5FpU{/youtube}